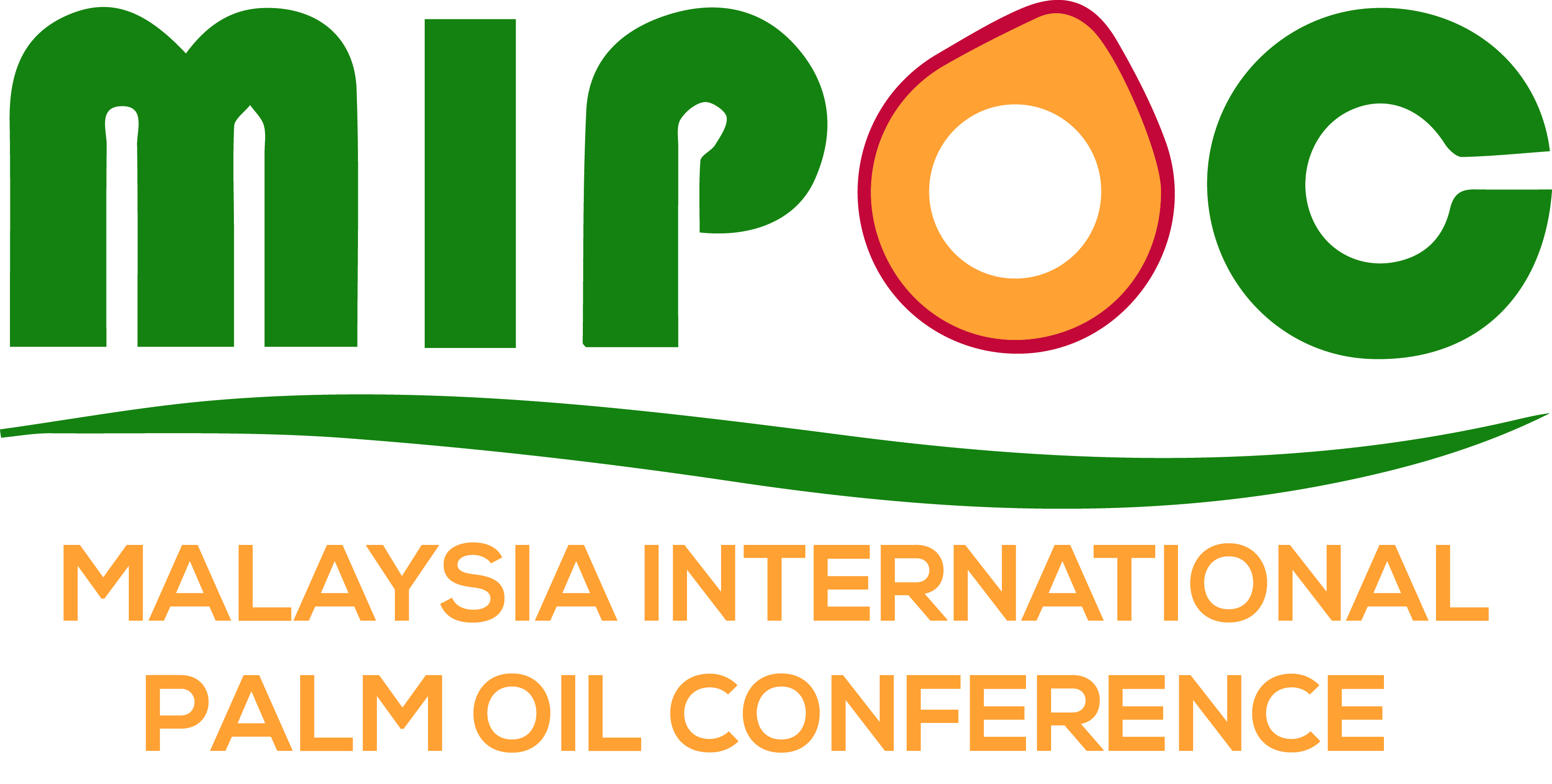 MALAYSIA INTERNATIONAL PALM OIL CONFERENCE (MIPOC) 2018
DAY 1 - 25th July 2018
Opening Session
World Oilseeds, Oils & Fats – Palm Oil as the Balancing Factor: 2018 midterm review for Malaysia Palm Oil Industry
Mr. Balu Nambiappan, the Director of Economic & Industry Development Division, Malaysia Palm Oil Board (MPOB)
Creating a shared value – sustainable solutions for the industry, people and environment – MSPO
Dr. Sanath Kumaran – CEO, Malaysia Palm Oil Certification Council (MPOCC)
Session 1: Implementation of Digital Agriculture for Palm Oil Plantations and Yield Improvement
Co-composting of Oil Palm Industrial Waste into Organic Fertilizer and Incorporation of Biological Control Agents to
Control Basal Stem Rot (BSR) Diseases Caused by Ganoderma SPP. in Oil Palm
Dr. Carmen Goh Kar Mun, PhD - Manager, Eureka Synergy Sdn Bhd
Diseases are affecting Oil Palm Production and Quality in Malaysia – Way Forward
Mr. Kester Chin - Managing Director, Greenearth (International) Holdings Sdn Bhd
Smart Plantations – Practical Applications of IoT and Big Data Analysis in Oil Palm
Mr. Cheang Teik Koon – Founder, Agritix Sdn Bhd
Application of Geospatial Technologies for oil palm plantation management
Mr. Cheong Jin Xi - Founder, Poladrone Solution Sdn Bhd
Sustainable Development on Oil Palm Mechanisation
Mr. Haji Abd Rahim Shuib - Head, Farm Mechanisation Unit, MPOB
DAY 2 - 26th July 2018
Special Presentation
Sustainable Palm Oil – Marketing in EU and its challenges
H.E. Mrs. Maria Castillo Fernandez - Ambassador & Head of the EU Delegation to Malaysia
Session 3:Transformation of Processing for Palm Oil Mill
Efficient, Safe and Sustainable processing in palm oil mill and refineries
Mr. Ong Toon Wei - Sales Director, Alfa Laval
Sustainable Palm Oil: Unlock the potential through SKF technologies
Mr. Ronnie Koh, National Palm Oil Segment Manager, SKF
Scania's approach to Sustainable Transport
Mr. Gary Chin, Sales Manager – Truck, Scania
Cloud-based IoT and Apps Solution – Transformation of palm oil industry
Mr. Albert Law - Malaysia Division Manager, Chih He Digital Co., Ltd.
Lunch and visit to Exhibition
Session 4: Circular Economy – Utilization of Biomass and Optimisation of Energy
1st Bio-compressed Natural Gas (Bio-CNG) commercial plant: A case study on converting Biogas from POME into
Biogas for industry use
Dr. Lim Daw Yuen - Senior Manager, Sime Darby Offshore Engineering Sdn Bhd
Biogas plant and how to transform POME into valuable dry biofertilizer
Mr. Juan Jose Gil – Senior Process Engineer, Biotec International Asia Sdn Bhd
Optimising the Utilities (High Pressure Boiler & Chillers) for Palm Oil Sector
Mr. Sandeep Shirsat - Industrial Utility Expert & Business Head, International Business Group, Thermax Global
Innovation in Empty Fruit Bunch pressing machine: A solution for boiler fuel - KH-777-8
Mr. Wayne Haw Wing Hau – Regional Manager, YKL Engineering Sdn Bhd
Session 5: Green Financing and Government Incentives on Advancement Technology development to
palm oil industry
Incentives in the Biomass industry
Mr. Mohd Rasli Muda – Director, Food Technology & Resource Based Industries Division, Malaysian Investment
Development Authority
Palm oil Yield and revenue protection – An insurance for Malaysia Palm Oil Plantations
Mr. Jeffrey Khoo – Vice President, Swiss RE Corporate Solutions
Captive Solution for Agriculture Industries
Mr. Erich Nicholas – Director & Principle Officer, Challenge Group Underwriters & Managers (L) Inc.
Advancement of Sustainability on Palm Oil Industry and other Green Projects – Multi channels of finance facility
Dato' Leong Kin Mun – Managing Director, Premier Capital Sdn Bhd
This is the proposed programme, the organizer reserved the right to make changes without prior informing.